Last October, Ariel Helwani did an interview with AEW President Tony Khan. However, the interview didn't go as well.
On The Ariel Helwani Show, Helwani asked some questions regarding the infamous backstage brawl and CM Punk's AEW status. Khan refused to comment on those questions, which made Helwani frustrated.
A day after the interview, Ariel Helwani stated on The MMA Hour that Tony Khan's interview was one of the most frustrating interviews in his career.
This past Friday on SmackDown, Ariel Helwani appeared on the blue brand. SmackDown commentator Michael Cole introduced Helwani as a "combat sports journalist."
After SmackDown went off the air, Tony Khan tweeted that Ariel Helwani is a "fraud." Helwani and Khan then exchange a few tweets.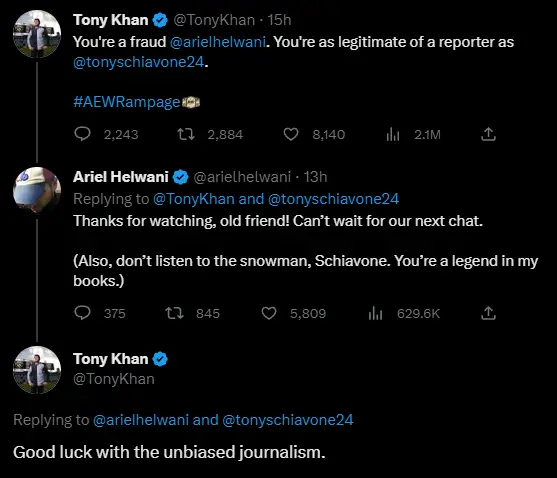 Last night, Ariel Helwani appeared on the Elimination Chamber kick-off show panel. He was also shown with Georges St-Pierre on live television and Michael Cole poke fun at Tony Khan by introducing Helwani as follows.
"The unbiased, world-renowned combat sports journalist Ariel Helwani who asks all the hard questions whether you want to answer them or not."
Michael Cole is a real one 🐐 pic.twitter.com/rmIZHmoWRZ

— WWE on BT Sport (@btsportwwe) February 19, 2023
Stay tuned with The Spotlight for more news.