Last night's SmackDown took place at the Bell Centre in Montreal, Quebec, Canada. An MMA journalist and WWE CEO Nick Khan's close friend Ariel Helwani appeared in the crowd to hype Sami Zayn's entrance.
After noticing Ariel Helwani's SmackDown appearance, AEW President Tony Khan and then called Helwani a fraud.
"You're a fraud @arielhelwani. You're as legitimate of a reporter as @tonyschiavone24."
Helwani then mocked Tony Khan and issued the following response.
"Thanks for watching, old friend! Can't wait for our next chat.
(Also, don't listen to the snowman, Schiavone. You're a legend in my books.)"
In response, Khan also mocked Helwani.
"Good luck with the unbiased journalism."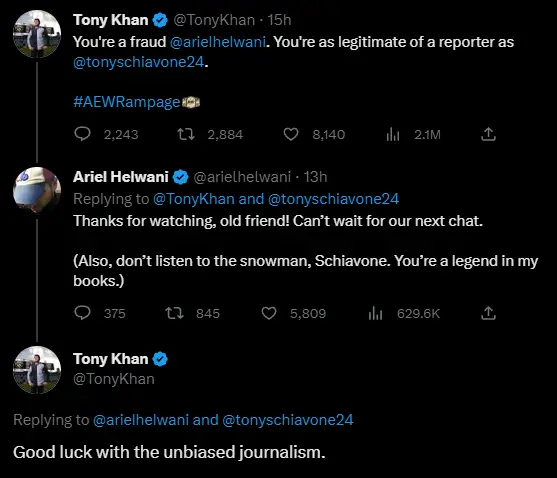 Last October, Tony Khan appeared on "The Ariel Helwani Show" where Helwani asked Khan numerous questions. However, Khan refused to answer some questions. Helwani later stated on The MMA Hour that Tony Khan's interview was one of the most frustrating interviews in his career.
"He didn't want to answer anything. You're going to come on and promote X, Y, and Z, great. And I'll play that dance with you. I did, at the beginning. But you got to give us something, to not even tell me how you were feeling. I'm not asking for specifics, all right fine I am, but is Punk going to wrestle for you, is he coming back, you don't want to get into it, fine. But tell me how you were feeling. Give me something."
Stay tuned with The Spotlight for more news.