Last May, CM Punk won his first AEW World Championship by defeating Adam Page at the Double or Nothing pay-per-view. A week later Punk announced that he suffered a foot injury during the match.
Until CM Punk made his return, Jon Moxley became the Interim AEW World Champion after defeating Hiroshi Tanahashi at AEW x NJPW: Forbidden Door pay-per-view. Moxley won the Undisputed AEW World Championship by defeating Punk on the August 24th, 2022 episode of Dynamite.
On the "Figure 4 Weekly" message board, Dave Meltzer noted that CM Punk initially refused to lose to Jon Moxley for the AEW World Championship last August.
"Do you know why they didn't advertise Punk vs. Moxley longer and why it had a short build? Because Punk agreed to it, then AEW got a legal letter saying he wasn't down with it and wasn't doing it and they didn't know if he'd come until Tony put his foot down. There are a lot of nice things I can say about him, and you can absolutely argue his position on Moxley was correct, but you can't argue he willingly did what he was asked in that scenario."
In response, CM Punk posted the following statement on his Instagram story, which has now been deleted. In the statement, Punk clarified the whole situation and accused Dave Meltzer of being a liar.
"SIGH. I wasn't cleared to come back to wrestle yet. Then plan was to wrestle at the ppv. I sat and listened to moxleys Rocky three idea. I explained how I'd never seen a Rocky movie.l and thought the idea sucked but if the boss wanted to do it whatever. He said he wouldn't lose to me. I'd never experienced someone refusing to lose to me. I just laughed. I asked Tony if this was what he wanted. He said yes. He's the boss so I said okay but I'd need to be cleared first. They kept saying it could just be a squash so I didn't need to be cleared. I scoffed at that. My health is more important. Dave Meltzer is a liar. Jericho is a liar and a stooge. There were plans but plans always change but I'll never put a company above my health ever again."

CM Punk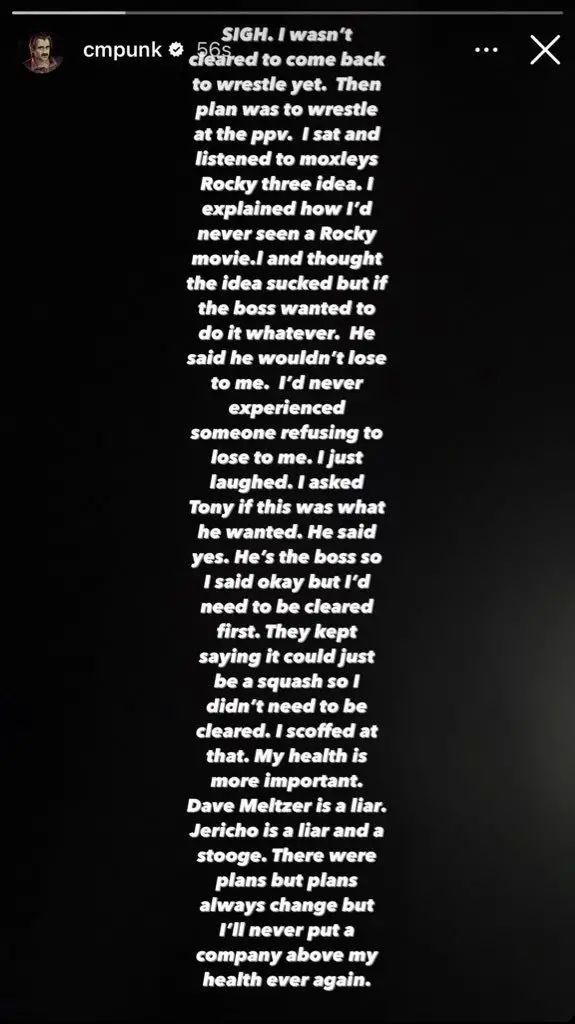 We will update you when we receive more details. Stay tuned with The Spotlight.