Naomi last competed on the May 15th WWE Live Event, where she and her tag team partner Sasha Banks defeated Natalya and Shayna Baszler for the Women's Tag Team Titles. A day later, Naomi and Banks walked out from the company, which made huge headlines at the time.
Yesterday, the former Women's Champion posted a photo on Instagram to inform fans that she is scheduled to appear at WrestleCon on Saturday, April 1st, and Sunday, April 2nd.
"In case you missed it, WrestleCon just added #trinityfatu. She will be at the Convention on both Saturday and Sunday. Pro photo ops available! (April 1 & 2)"
A fan asked Trinity Fatu (Naomi) about her status with WWE. In response to the fan, Trinity stated that she is no longer working under WWE.
Fan: "Girl….are you even still in WWE"

Trinity: "no frien"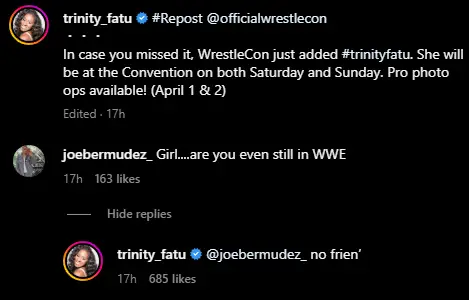 On Monday, Trinity Fatu trademarked the name "Trinity Starr" at the United States Patent and Trademark Office for merchandise purposes.
Stay tuned with The Spotlight for more news.