Chris Jericho is one of the top wrestlers in AEW and has been with the company since day one. Currently, Jericho is leading his own faction called "Jericho Appreciation Society," representing sports entertainers.
Chris Jericho appeared on WWE television two times after signing with AEW. His first appearance came from Steve Austin's Broken Skull Sessions, where he discussed a wide range of topics regarding his wrestling career. Jericho's second appearance happened on the June 27th episode of Monday Night RAW, where Jericho congratulated John Cena through a video message for Cena's 20th anniversary in WWE.
Yesterday, Chris Jericho retweeted an article written about himself. The article caption read, "5 Reasons we will see Chris Jericho in WWE someday."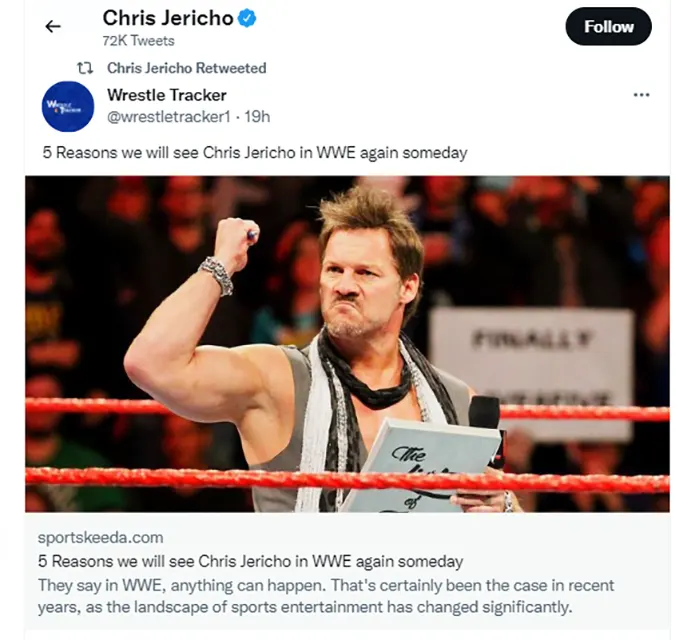 Despite being with AEW, Chris Jericho always has respect for Vince McMahon. During a recent interview with the True Geordie podcast, Jericho talked about McMahon.
Vince is just the lad at heart. He's just a f**king dude. And yes, he's very intimidating. And he's a billionaire. And he's, you know, the creator of this massive, iconic company. But deep down, he's just a dude that likes to hang out, likes to joke, and likes to drink (…) He's surrounded by, 'Yes men' as most guys in that position are. He doesn't want 'Yes men' and I had a really good relationship with him.

H/T Ringside News
Recently, former AEW star Cody Rhodes made his WWE return at WrestleMania 38, and many fans thought it wouldn't happen. Also, Jericho's WWE return could happen in the near future. Because in the wrestling industry, they say "never say never." However, fans have to wait until Jericho's AEW contract expires.
We will update you when we receive more details. Stay tuned with The Spotlight.